Future Skills Success
We are delighted to showcase the success of our Future Skills delivery in partnership with the Holiday Inn, the impact it has on individuals and how it can lead to successful careers for those involved.
Erika Jankute undertook the Level 2 Customer Services short course and we've asked her a few questions about how she found her interview experience and subsequent employment venture thanks to her involvement with Babington's Future Skills Team.
How did you find your initial training with Babington and our Future Skills team?
I enjoyed it a lot more than I expected to initially as it looked as if it was going to be very difficult, but I thoroughly enjoyed it as I got into it more. The part I enjoyed the most was the ability to develop new skills, I was very shy and scared to talk to people at first but by the end of the two weeks I felt more confident, open, and able to speak out.
Matt, our tutor, was really good as he allowed us to voice our opinions openly. His approach and the tone he used allowed me to say things, even if it was the wrong answer, and not feel embarrassed; he was such an amazing person.
I would 100% recommend the Customer Service Level 2 course with Babington as it has led to my employment at Holiday Inn.
How did it help you find employment?
When I was looking for work, I never really thought of hospitality or hotel work, I had initially joined the course with the idea of trying to find work in a call centre but unfortunately, I was unsuccessful with my interview. Paula Sinclair came back to me straight after and told me how good my interview was and that she would support me in finding alternative employment and then she contacted Steve at the Holiday Inn and who called and offered me an interview the following day.
What was your interview experience like at the Holiday Inn?
I was very nervous at first as I was waiting for Steve, as I had just been unsuccessful for another opportunity, which made me feel even more nervous than normal. But, after meeting with Steve, he instantly made me feel relaxed and at ease which made me even more motivated and determined to do well as I really wanted to get the position.
At the end of the interview, I was offered a trial shift and the people were amazing, they all made me feel so welcome. Two days later I was offered the position and accepted which meant I was no longer unemployed; this was such a great feeling!
I said I wanted to be employed by my birthday and got the role 2 days before – the best birthday present I could wish for!
What do you enjoy most about working at the Holiday Inn?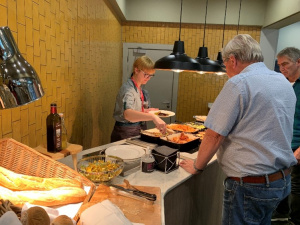 The staff – we are like one big happy family, they are amazing! Also, the mangers are humble, understanding and very supportive.  I enjoy taking care of and helping the guests and I really enjoy seeing them leaving here with a smile. Since working here, I have been nominated for employee of the month which has encouraged me further and showed me that in the future I could possibly do more here at Holiday Inn.
Any final comments to other people who are considering joining one our short courses to help them find employment?
I would like to tell everyone who is looking for work to follow your heart, look at your best positive values and characteristic and go in that direction, and if it doesn't work out or doesn't take you where you want to be, an alternative will show up for you so enjoy it.
Holiday Inn have had the support of Babington and our Future Skills team to unlock potential, deliver personalisation and enhance performance and had this to say about their experience: